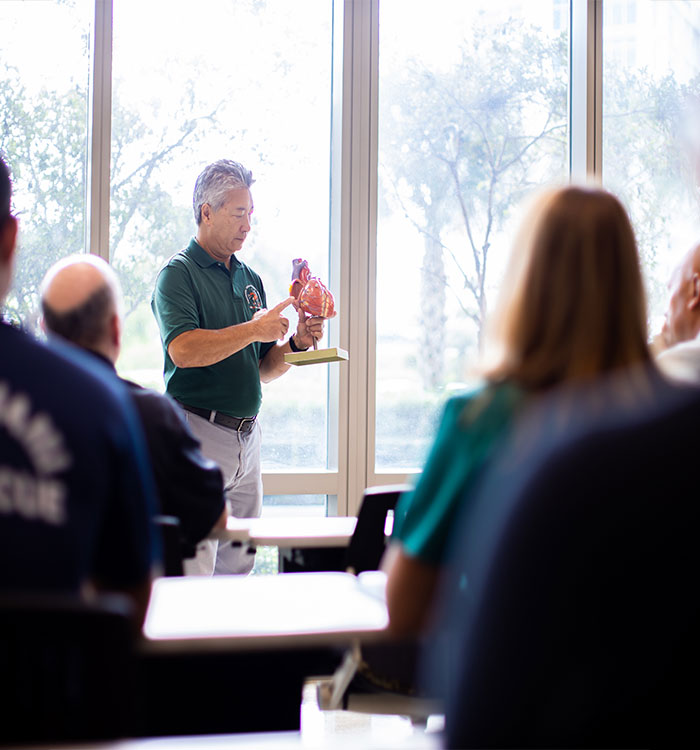 OVERVIEW
The Gordon Center is a designated Center of Excellence of the University of Miami Miller School of Medicine. It was established more than 45 years ago for the application of advanced technology to medical education for medical students, physicians, physician assistants, nurses, paramedic/firefighters and instructors. More than 2,000 medical centers and agencies worldwide use the educational systems and training curricula developed at the Center. The Center occupies a 34,000 sq.ft. state-of-the-art facility, with the capability for simulation and design engineering, production and manufacturing. It houses a high technology auditorium, self-learning laboratory, standardized patient training area, emergency rescue vehicle, car for extrication of trauma victims, disaster response decontamination showers and mock emergency department.
The most long-standing example of our creative work is Harvey®, the Cardiopulmonary Patient Simulator. First introduced in 1968, it simulates essentially any cardiac disease, including blood pressure, breathing, pulses, heart sounds and murmurs. The patented Harvey® also simulates lung disease, is more portable and costs less. A curriculum for nurses has been developed and successfully evaluated in a study at multiple nursing schools. Harvey® trains tens of thousands of learners worldwide.
HISTORY
"By better training those who serve and protect our citizens and our country, we contribute to a major reduction in mortality," - Michael S. Gordon, M.D., Ph.D.
Michael S. Gordon's vision was simple: to create an environment where innovation, simulation and education come together. And in the late 1960s, that vision took shape when he begin his work in simulation that led to the creation of the Medical Training and Simulation Laboratory in 1980. As his work expanded beyond simulation, the name was changed to the Center for Research in Medical Education, and in 2005 his name was added to celebrate the opening of the University of Miami Michael S. Gordon Center for Research in Medical Education.
Gordon revolutionized medical education not only in Miami, but around the world. As a cardiologist, Gordon recognized that simulators could help medical students improve their cardiac examination skills and in 1968, Gordon built his first mannequin simulator Harvey®, named after his mentor Proctor Harvey, M.D. But Harvey was just the beginning. In the 1980s, the Chicago native developed an innovative computer-based learning system called UMedic®, to train students, physicians, nurses, emergency responders and military personnel to save lives.
Through the decades, the Center grew, expanding it reach to global proportions. Currently, the state-of-the-art facility extends over 34,000 sq. ft. and houses a comprehensive training setting equipped with an emergency rescue vehicle, car for extrication of trauma victims, disaster response decontamination showers and mock emergency department. The Center is still home to Harvey®, UMedic®, and also offers Pre-Hospital and Emergency Healthcare Skills Training Programs for medical providers, hospitals and health systems across the country and around the world.
The Gordon Center has been recognized with several national "Awards for Educational Excellence," and the American College of Cardiology and American Medical Association. In 2018, the Gordon Center was recognized with one of the inaugural ASPIRE for Excellence Awards in Simulation by the International Association for Medical Education.
"Michael was a pioneer and created a remarkable foundation," said Barry Issenberg, M.D., Director of the Gordon Center. "It is the goal of the Center to carry out his mission every day and honor his legacy as a clinician, educator, and visionary."