The #1 Choice in Simulation Education
Harvey® System

This full-size manikin realistically simulates over 50 cardiac diseases at the touch of a button by varying heart sounds, murmurs, pulses, blood pressure, and breath sounds. Harvey is the longest continuous university-based simulation project in medical education, and no other simulator presents cardiac bedside findings at the level of detail and fidelity found in Harvey.
Portable, for stationary or in situ training
50 patient scenarios
Digitally driven pulses and impulses in 14 areas
9 cardiac auscultatory areas
6 pulmonary auscultatory areas
Ability to modify the amplitude & intensity of all findings
Ability to "talk," allowing history-taking
Upgradable software system
Cost effective training
get harvey® now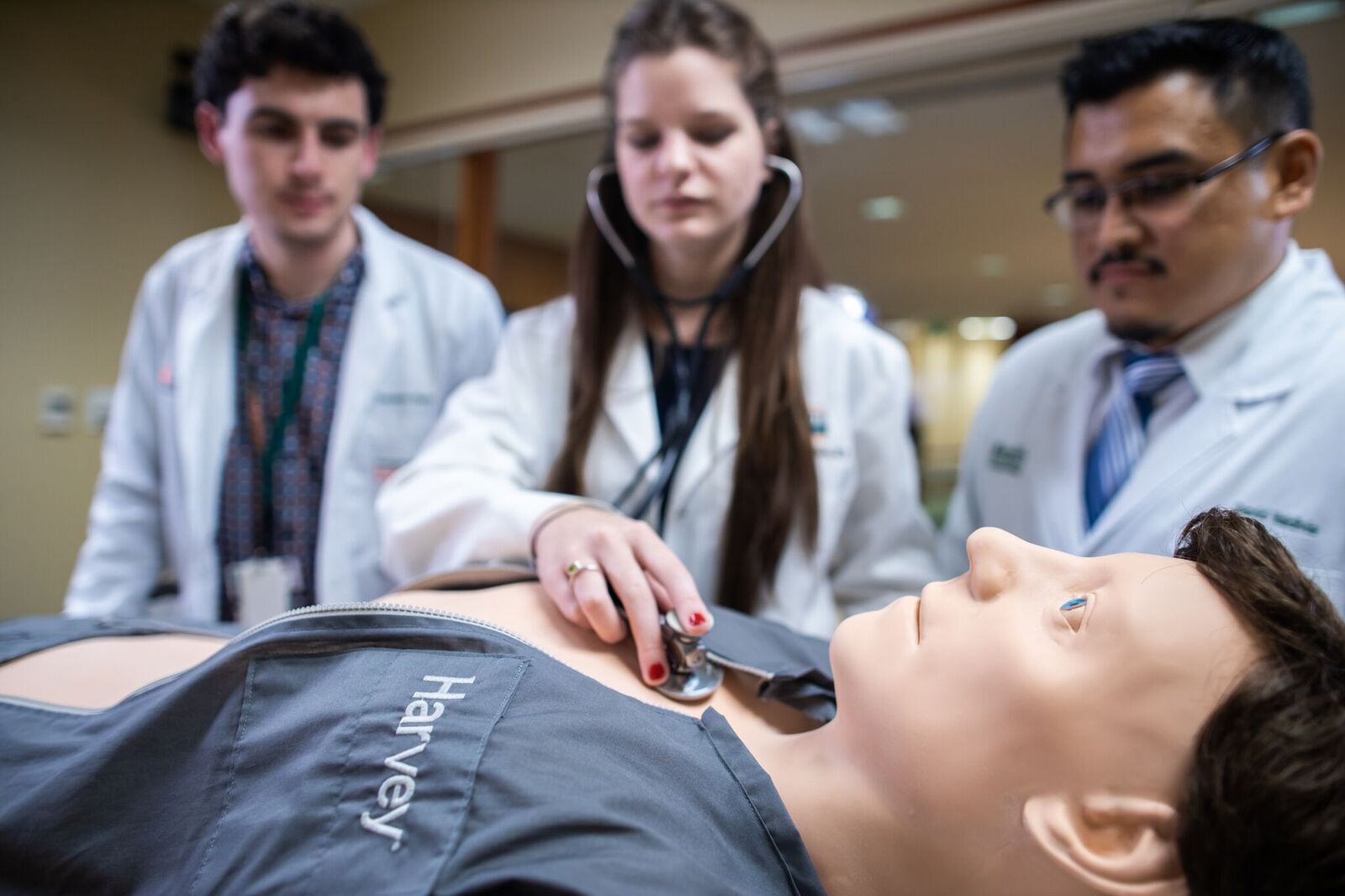 Harvey Curriculum
Harvey provides a comprehensive cardiology curriculum by realistically simulating 50 patient scenarios. It is structured to begin with common, less complex conditions and progress to more rare and complex diseases. Some patient scenarios are available in both 60 & 90 bpm with corresponding respiratory rate changes of 12 & 15 rpm, respectively.
Introductory Program
Normal (60 & 90 bpm)
Innocent Murmur (60 & 90 bpm)
Aortic Valve Sclerosis
Hypertension (60 & 90 bpm)
Angina Pectoris
Acute Inferior Myocardial Infarction
Acute Anterior Myocardial Infarction
Ventricular Aneurysm
Mitral Valve Prolapse (60 & 90 bpm)
Mitral Valve Prolapse, isolated click & murmur
Mitral Regurgitation, chronic
Mitral Regurgitation, moderate
Mitral Regurgitation, mild (60 & 90 bpm)
Mitral Regurgitation, acute
Tricuspid Regurgitation, mild (60 & 90 bpm)
Mitral Stenosis with severe tricuspid regurgitation
Mitral Stenosis with mild tricuspid regurgitation
Mitral Stenosis & Regurgitation
Aortic Regurgitation, chronic (60 & 90 bpm)
Aortic Regurgitation, mild
Aortic Regurgitation, acute
Aortic Stenosis (60 & 90 bpm)
Aortic Stenosis, moderate
Severe Aortic Stenosis and mild aortic regurgitation
Hypertrophic Obstructive Cardiomyopathy
Cardiomyopathy (60 & 90 bpm)
Ischemic Cardiomyopathy
Heart Failure, mild systolic
Heart Failure, mild diastolic
Acute Pericarditis (60 & 90 bpm)
Primary Pulmonary Hypertension
Cor Pulmonale (90 bpm)
Pulmonary Embolism (90 bpm)
Atrial Septal Defect
Ventricular Septal Defect
Patent Ductus Arteriosus
Pulmonary Stenosis
Coarctation of the Aorta
Tetralogy of Fallot
HOW TO GET HARVEY
Interested in learning more or purchasing?
Instructional Materials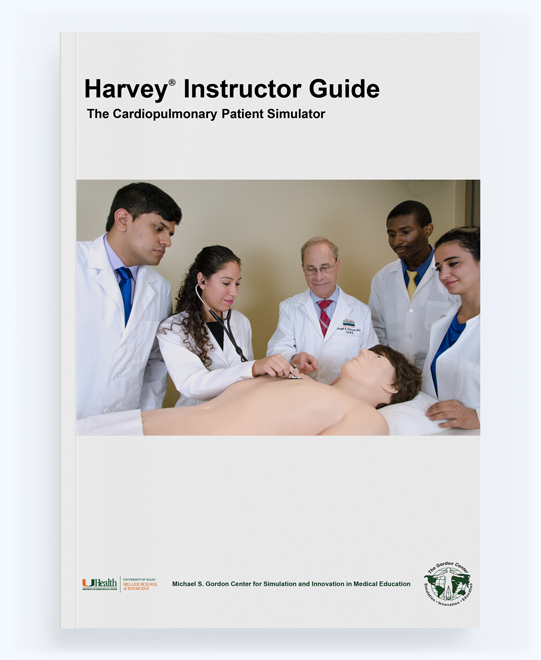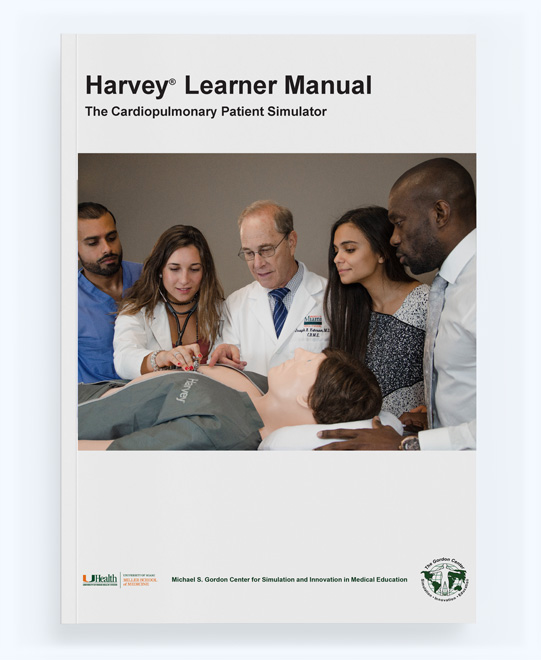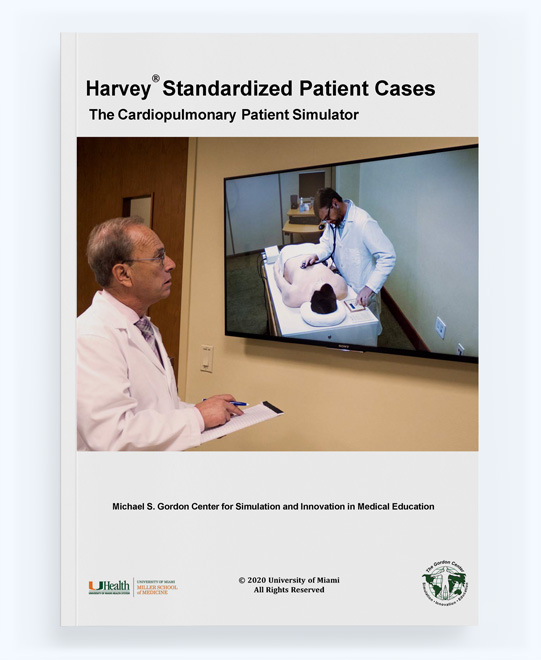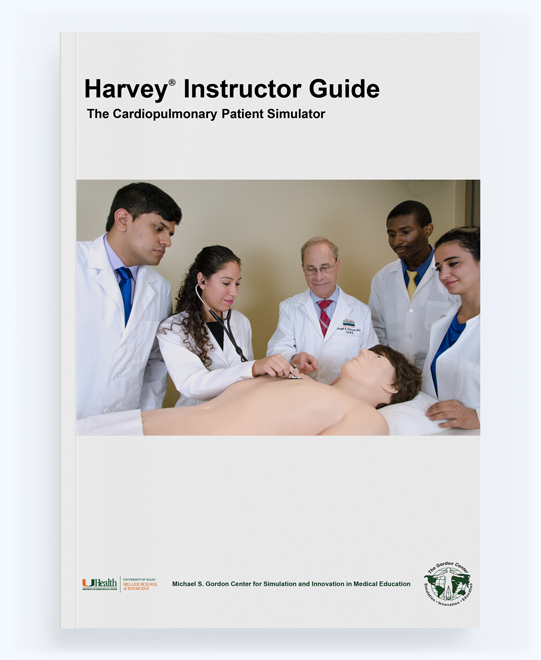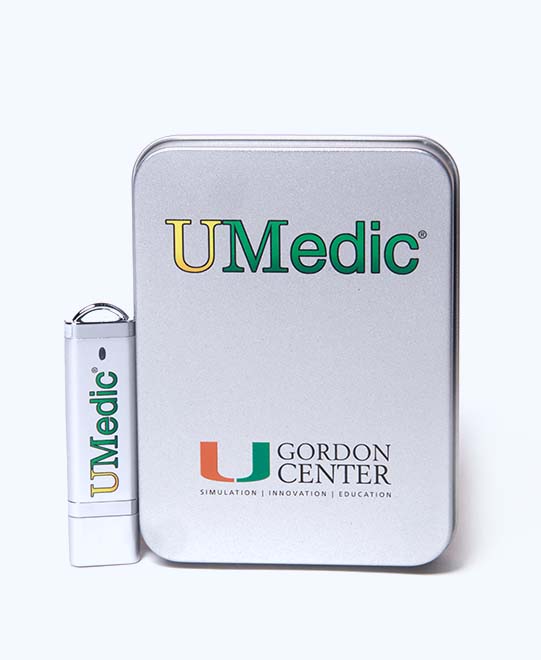 Learning Environment
Harvey is portable and may be used in any environment in which a patient may be examined. Using stethophones, small groups may learn without an instructor by using the slide programs or the UMedic system. Harvey may also be used in clinical skills or simulation training centers or SP training areas. Larger groups by using stethophones for auscultation, and video projection for observing other physical findings. Most important, Harvey's location should be convenient for students, faculty and staff. Even though Harvey functions as a self-learning device, the nearby presence and availability of knowledgeable faculty and staff will further ensure a successful program.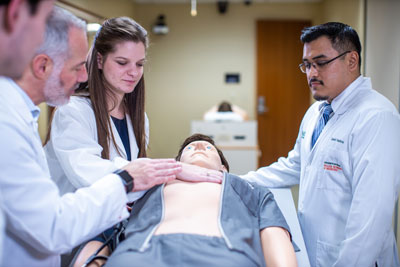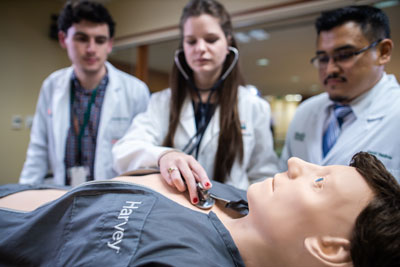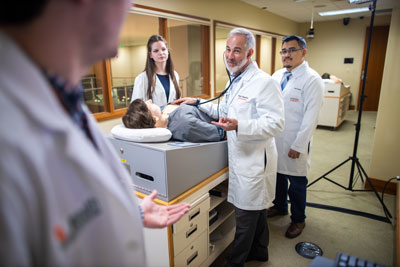 world wide
reach
Harvey teaches many thousands of learners annually at over 700 institutions worldwide. The American College of Cardiology Task Force on Teaching has recommended Harvey for training, the British Heart Foundation has placed the simulator at nearly all of the medical schools in the U.K., and the American Board of Internal Medicine uses videos of Harvey its computer-based skills recertification examination. The Royal College of Canada has used Harvey for its high-stakes internal medicine certification examination.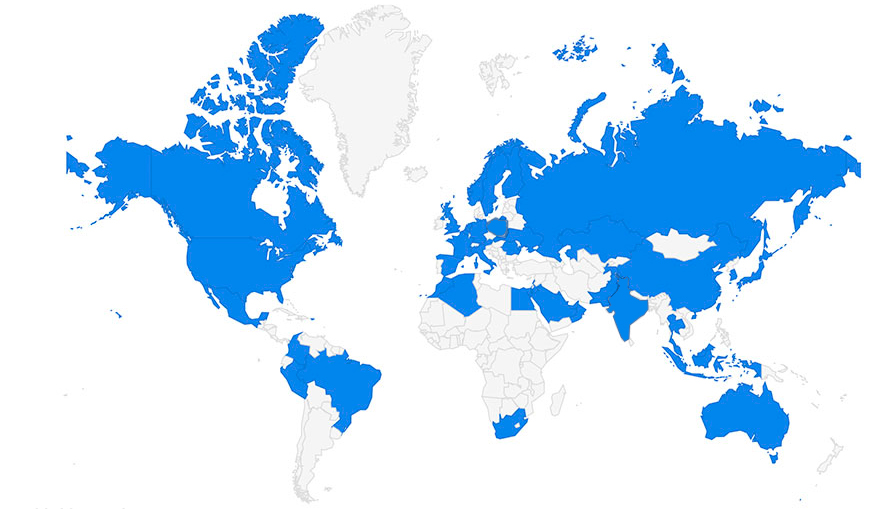 Harvey - FAQ
The Next Generation Harvey includes a comprehensive cardiology curriculum covering 50 patient scenarios. Additionally, the cardiology simulator includes instructional aides such as an Instructor Guide, Learner Manual, and Standardized Patient Case Curriculum.
Harvey's Power Ratings:
Input voltage: 100 - 240VAC
Input frequency: 50-60Hz
Maximum power:5A

Weight and Size
Wooden shipping crate: 130 lbs (58.9 kg) 68" L x 29" H x 33" D
CrateCube shipping crate: 112.2 lbs (50.8 kg) 64" L x 29" H x 35" D
Manikin and cabinet: 116 lbs (52.6 kg) 57" L x 22" H x 28" D

Practical Uses
Harvey must be made an integral part of the required curriculum. If it is an optional resource, students have much less incentive to use the simulator. Outcomes must also be tested, because "assessment drives learning." Our integration curriculum plan have been developed for medical schools, nursing schools, and physician assistant education. Only medical school plan is shown below.
Planning
The first step is to plan the initial experience with Harvey in a part of the curriculum that is easy for the Harvey "champion" to control. Examples include champions that are directors of the clinical skills center, the physical diagnosis course or a cardiology elective. To integrate Harvey throughout the entire curriculum will take cooperation among multiple faculty members. It will require leadership and a willingness to change by those involved. All planning must include specific learning goals and the testing of outcomes.
Inclusion in a timetable
Develop a timetable for the use of Harvey in different settings throughout the curriculum. This should include instructor-facilitated small-group sessions and independent self-learning sessions. Ideally an instructor first introduces Harvey to an entire class in an auditorium/lecture hall setting. An example of an effective timetable is shown below:
Plan to Utilize Harvey in a Four-year Medical School Curriculum
Learning Goals
Course
Modules
Method
Time
Year 1
Normal cardiovascularphysiology & bedside
examination
Physiology and/or
Early Clinical Skills
Normal (46)

Normal (46)
Large-Group Lecture Setting

Small-Group / Independent Learning
1.5 hours

1.5 hours
Year 2
Review normal and add
classic valve lesions: pathophysiology & bedsideexamination
Pathophysiology
and/or Advanced
Clinical Skills (PhysicalDiagnosis Course)
Review Normal (46)Highlight MR (7), AS(13), AR (17), MS (4)MR, AS, AR, MS
Large-Group Lecture Setting

Small-Group / Independent Learning
1 hours

6 hours
Year 3
Review common diseases, including the bedside examination, laboratory evaluation & treatment
Medicine Clerkship
Angina Pectoris (39) Inferior Infarction (40) Anterior Infarction (43) Hypertension (36) Cardiomyopathy (42)
Small Group / Independent Learning
7.5 hours
Year 4
Comprehensive review of cardiovascular curriculum
Adult and/or Pediatric Electives
Review previous modules , add congenital and acquired disease modules
Small Group / Independent Learning
15 – 20 hours in 4-week elective
Please contact us for a detail Harvey curriculum integration plan for nursing and physcian assistan curriculum.