About Our
Medical Education Programs
The Gordon Center is known for its emphasis on skills training, interactive learning and patient simulation through both technology and standardized patients - actors who portray patients. Using realistic "case-based" scenarios to train healthcare professionals facilitates the discussion of the humanistic aspects of medicine, such as communication skills and medical ethics, in addition to diagnosis and management.
The Gordon Center offers training programs in introductory clinical skills, cardiology, and emergency medicine. The Gordon Center also provides cardiology training programs for cardiology fellows, residents in internal medicine and family medicine, physician assistants, and nurse practitioners.
The Gordon Center also offers a wide range of faculty development courses (iSIM) in simulation-based instruction, assessment and debriefing and research.
Faculty Development
Improving Simulation Instructional Methods (iSIM) for Simulation Educators
Guided learning through practical experience
This program is a collaborative effort of the Gordon Center for Simulation and Innovation in Medical Education (GCSIME) at the University of Miami and the Peter M. Winter Institute for Simulation, Education and Research (WISER) at the University of Pittsburgh. It is designed as an introduction to fundamental skills and abilities for delivering simulation-based healthcare education through a variety of techniques and technologies. The program emphasizes hands-on activities and active participation to maximize simulation-based instruction skill acquisition. The program is open to all medical professionals who are interested in improving their simulation-based instructional skills and is targeted at those with a background in healthcare education.
At the conclusion of the course, participants will be able to:
Review and discuss methods of simulation, simulation technologies and simulation enviroments
Identify and incorporate evidence-based features that lead to effective simulation-based learning
Review basic design and development elements for constructing a simulation scenario activity
Identify simulation enviroment design requirements elements as they relate to required fidelity and equipment for simulation activities
Identify the elements necessary to use simulation for assessment and debriefing
Review debriefing methods for team training simulation activities
Implement fundamental strategies for debriefing healthcare teams
Contact Donna Fye for more information. dfye@med.miami.edu
About Our
DIRECTORS
Barry Issenberg, MD, FACP
Professor of Medicine
Director, Gordon Center for Simulation and Innovation in Medical Education (GCSIME) Assistant Dean,
Research in Medical Education Director,
Division of Research and Technology University of Miami
Paul Phrampus, MD
Associate Professor and Director
Peter M. Winter Institute for Simulation,
Education and Research (WISER)
University of Pittsburgh
Jeffrey Groom, PhD, CRNA
Director of Clinical and Associate Dean
Simulation Programs and the International Academy for Clinical Simulation and Research
University of Miami School of Nursing & Health Studies
John M. O'Donnell, RN, CRNA, MSN, DrPH
Professor and Chair, Department of Nurse Anesthesia
Director, Nurse Anesthesia Program
Associate Director, WISER
Ross J. Scalese, MD
Associate Professor of Medicine
Assistant Director, Division of Research and Technology
Gordon Center for Simulation and Innovation in Medical Education
STANDARDIZED PATIENT PROGRAM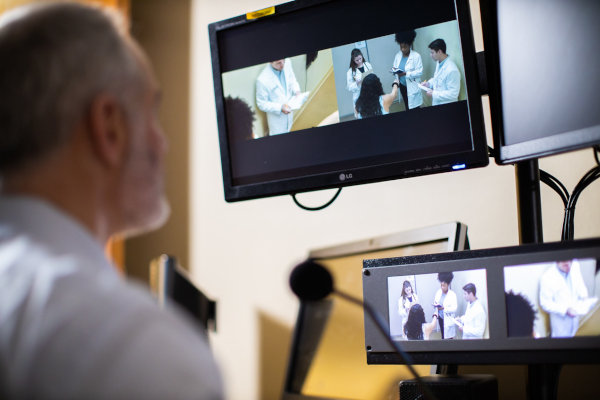 The Clinical Skills and Standardized Patient Program (CSSPP) supports the Miller School's mission to empower our learners to transform lives and inspire them to serve in our global community. The goals of the CSSPP are to:
Facilitate development of clinical skills (CS) required to care for patients in clerkship phases and residency
Ensure one hundred percent (100%) student 1st-time passing of the USMLE Step 2 CS exam
Integrate CS education with basic, clinical, and health system sciences
Provide early, frequent, and longitudinal clinical exposure and robust competency-based assessment with SPs and real patients
Provide exposure to the care of diverse populations and under-served communities in a variety of health care settings
Foster self-identification of knowledge gaps and skills deficiencies to target remediation, and development of independent, life-long learning behaviors
Introduce evidence-based use of technologic innovations to assist with patient evaluation
Standardized Patients (SPs) are trained to accurately and consistently recreate the history, personality, physical findings, emotions, and responses of actual patients in simulated clinical encounters. SPs are interviewed and examined by healthcare learners and are also trained to present effective feedback to learners in a safe, controlled environment. The Gordon Center's Standardized Patient (SP) Program manages all SP participation in educational and/or assessment activities for the Gordon Center. The SP Program administers all training, scheduling, case materials, etc. for the performance of a SP including, but not limited to, participation in lectures, student sessions, and exams.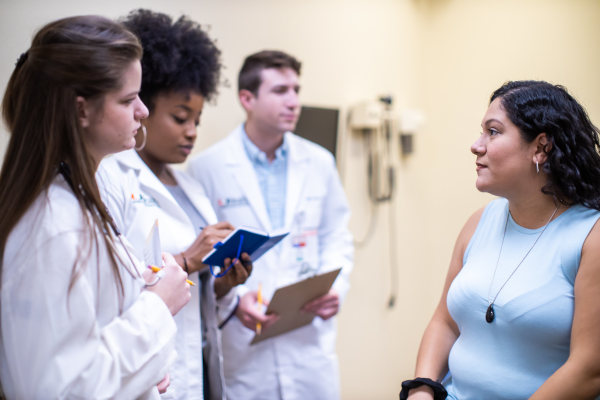 BECOME A STANDARDIZED PATIENT
WANT TO MAKE A DIFFERENCE IN THE HEALTHCARE FIELD?
The University of Miami Miller School of Medicine is recruiting SPs in the training and evaluation of healthcare professionals, including medical, nursing, prehospital, public health, and social work trainees. As a SP, you may be audio or video-recorded during simulated encounters for quality assurance and training purposes only. No prior acting experience is necessary.
Candidates must demonstrate flexibility and reliability with scheduling and assignments, as this a part-time paid position.
FOR MORE INFORMATION, CONTACT:
Samantha Syms, MS, CHSE
Director, Standardized Patient Program
ssyms@miami.edu
305-243-2873